Photogenic furries on the radio – Dirty cats in "safe sex" animated PSA – Newsdump (11/24/14)
by
Patch O'Furr
News from: North Dakota, Britain, Australia, Austria, Buffalo and San Francisco.
Headlines, links and little stories to make your tail wag.  Story tips are always welcome.
_____________________________
In the Media
_____________________________
Prairie Public radio interviews Furry author, Tempe O'Kun.

NPR broadcaster Prairie Public's "Main Street" covers North Dakota news, arts, movies and books.  They invited Tempe O'kun for an in-depth conversation.  Hear the Furry author's 23 minute talk on Main Street.
Tempe is granted a welcome level of respect.  He's introduced as an author first, college teacher and person, and then one of those Furries.  The well-researched questions don't bat an eye at the mix of "cuddly, steamy furry romance" presented in his popular SoFurry collection, or judge the hot fan-fic and porn at his FurAffinity page.  Good.  It skips non-issues to introduce the genre of furry (like expectations of character type: sly foxes, etc.) – and writing style chat that authors will want to hear.
Tom Broadbent's "At Home With The Furries" photo doc update:  Bhavvels Bunny.
In Five pro photographers advancing the art of furry documentary, I named "whimsy" as Tom's signature approach.  The carefully chosen fantasy scenes he presents show great storyelling.  Tom's blog updates never fail to impress – this week's subject is Bhavvels.  It explains Tom's approach- "The setup:"
…should reflect the personality of the furry, but equally the personality of the person inside the suit. The two are interconnected in a very unique way, unlike in fact than any other form of cosplay I am aware of ( I'm prepared to be proven wrong of course)

It is in fact a collaboration, a trust between me and the furry.  That relationship and theimportance of maintaining that bond may go some way to explain how protective I am of the project and the furries themselves.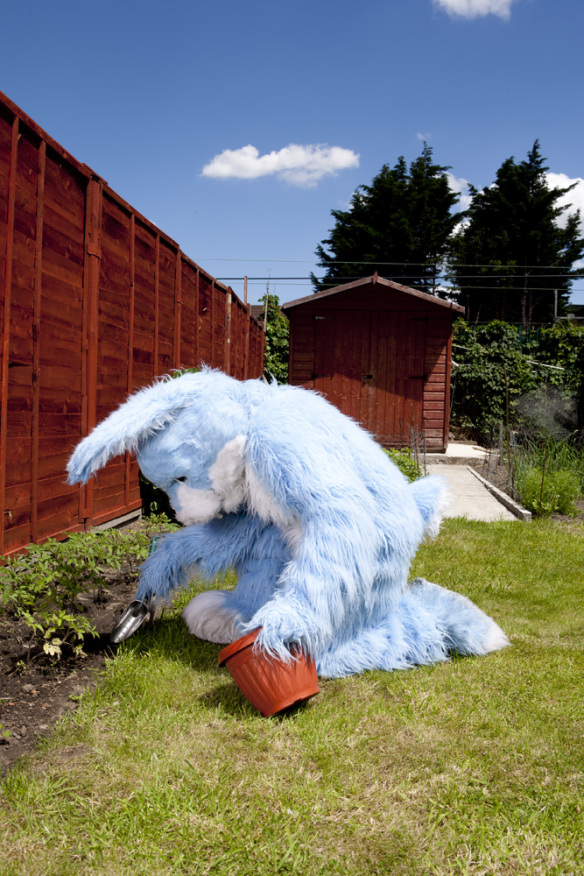 ABC Radio in Albany, Western Australia, airs a piece about Furries.
It's very nice.  Though staticky and short at 4 minutes, it conveys the excitement of fursuiting.  It questions who would get passionate about such a silly hobby; the answer is "all walks of life."  (This Aussie fur can discuss the piece.)
Austrian 'Cat porn' PSA cartoon aims to promote safe sex.
A town council in Poland got upset about "dubious sexuality" of Winnie The Pooh. They would poop their pants if they saw this.  It's a public service spot produced by an AIDS charity, ahead of World Aids Day on December 1st.  A public health challenge inspires it.  The disease isn't cured, but people used to modern treatment slack off on precautions.  That increases risk.  The animation battles apathy with art: "Not the raised index finger, but the funny comic style creates the necessary attention and the approach to the topic."  Crude animation… but effective?  (NSFW):
_____________________________
Random internet fun
_____________________________
Look at these freaking cute otters in the snow.  Look at them.
Frida, a chihuahua-mix, became the mayor of San Francisco for a day.
Finding the mayor under a log in Nevada seems about as effective as anything else the system does in "The People's Republic of California".
Frida overcame humble beginnings to get where she is today. She was found nursing her two puppies under a log in Nevada and rescued thanks to the efforts of the American Society for Prevention of Cruelty to Animals. She continues to care for her two puppies today as a single mom. Her rags-to-riches story no doubt plays well with voters.
It's almost as silly as this.