History of mascots, Dawgtown movie, Government-issue furries – Newsdump (2/09/15)
by
Patch O'Furr

Headlines, links and little stories to make your tail wag.  Story tips are always welcome. First, a little site news…
Nominate Dogpatch Press for an Ursa Major Award, and get fuzzy hugs!  I love furries so much, blogging about them is it's own reward.  But I love shinies too, so can the highly attractive readers of this site nominate it for an award?  Please go to the Ursa Majors site and submit a Best Magazine nomination.  These hugs are worth it.  (OK, they're worth nothing because I hug everyone for free. They're just priceless.)
                    _____________________________
          Animation and media
                    _____________________________
"99 Percent Invisible" radio show presents a thrilling history of mascots.
From Episode 151 – La Mascotte: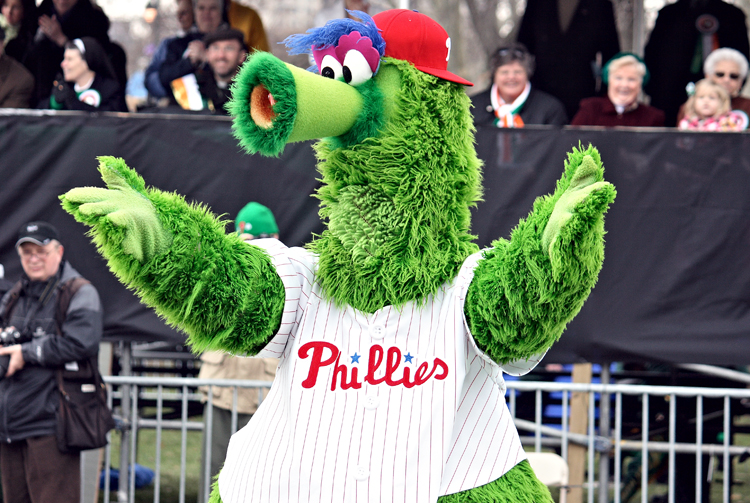 "Furry, larger-than-life, foam-headed mascots may seem standard-issue for sports teams now, but this is only a relatively recent phenomenon in the history of professional sports."
Bonnie Erickson was the Jim Henson-mentored designer of Miss Piggy. She's credited with popularizing, since the 1970's, "full-body costumes that people could perform and move in." And going back in history:
"The idea of the mascot came to America by way of a popular French opera from the 1880s called La Mascotte. The opera is about a down-on-his luck farmer who's visited by a girl named Bettina; as soon as she appears, the farmer's crops start doing well and his life turns around… Hence, "mascotte" (or the anglicized "mascot") came to mean a person or thing that brings good luck."
The show also interviews the author of a recent book I'm happy to learn exists:  Yes, It's Hot in Here: Adventures in the Weird, Woolly World of Sports Mascots.
This radio show investigates design, architecture, and the world we never notice all around us.  It's earned glowing comparisons to This American Life. It's distributed on public radio around the USA, proudly boasting "completely independent production" funded by listeners. Check it out and get smarter.

Dawgtown update – support this movie!
This 2D cartoon animated movie is the story of Max, a captive pitbull fighting for freedom.  It deserves support for indie spirit. Like it on Facebook!  It will be faithfully followed here as it reaches goals in production. Check the Dawgtown tag for my interview with the director.  Recent progress:
https://www.facebook.com/video.php?v=453147508165793&set=vr.453147508165793&type=2&theater
Government-issue furries: cartoon animal Public Service Announcements from Stopbullying.gov.

These webisodes try hard to relate to kids, and might generate enough eye-rolling to power a battleship. Actually, funding pro-social messages is cooler than blowing stuff up.  The target audience isn't snarky dogs with furry blogs, so I shouldn't pick on the animation and give it critical swirlies… too much.
But the feebly-synched talkiness is so inert, it's almost anti-cartoon.  Why not sneak in some ice cream with the vegetables?  The beaurocrats should have given budgets to animators who know how to maximize cartoon power.  How about reaching kids with Rocky and Bullwinkle  humor, or even subversive cartoon beatings of bullies?  Even with the given resources and mission, you could ask for better execution.  The National Film Board of Canada has funded surrealistic dirty cartoons, while Americans are puritan to the max.  But how often do they fund animation at all?
Ask the commissars if they had any success at capturing the zeitgeist of youth culture: "StopBullying.gov provides information from various government agencies on what bullying is, what cyberbullying is, who is at risk, and how you can prevent and respond to bullying. A federal government website managed by the U.S. Department of Health & Human Services."
Mercedes-Benz "Fable" commercial.
Bare budgets for bullying, lavish ones for cars. "The storybook legend of two woodland creatures racing for forest dominance gets a fresh, modern spin thanks to a special guest appearance by the 2016 Mercedes-AMG GT S, the all-new high performance sports car built by Mercedes-AMG engineers to take on all challengers. It's a fun, thrilling, action-packed tale featuring a hare, a tortoise and 503 horses."