The Furclub Survey: introducing the world's independent Furry dance parties.
by
Patch O'Furr
Furclubbing:   "A repeat/regular nightclub event by furries for furries."  The concept has been spreading since the late 2000's.  This kind of dance party is independent from conventions. It builds on their growth but takes things farther.  It's more established than informal meets or events that happen once.  Those can stay inner-focused for friends who already know each other, but these events bring partnership with new venues that support and host furries. They're a gateway to the public, so a stranger may walk in off the street and discover their new favorite thing.  It encourages new blood and crossover. It makes a subculture thrive.  There are connections to DJ and rave scenes.  But this is its own unique movement!
______________________
The Survey Questions
______________________
Any party that responds will get their own featured article! (Check back for new responses linked with party names below.)  
Do you know any others?  Please share these questions to them, and send responses or tips to patch.ofurr@gmail.com.
Casual answers are fine (they will get partnership to create and boost an article). Please include graphics, pics or vids. What can you tell the fandom about these?
______________________
Furclubs – North America
______________________
San Francisco's Frolic party (2010 – now)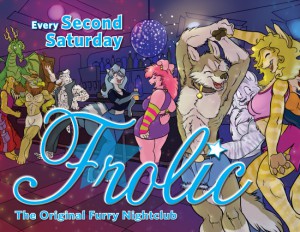 This party's wild success and the interview is the reason for this list.  It's "the original" furry dance party (at least for North America).  Many call it a model that led them to start.  It's a traveler destination at a historic venue, one of the oldest active gay bars in SF.   It draws far away visitors to a "mini-con" every month, with 300 attendees maxing out the venue and a large outside crowd. That's as big as some annual cons!  The success has brought it to happen in San Jose (coinciding with Further Confusion) and a July park BBQ called "Furries In The Wild."  Promoter Neonbunny says it's OK if parties in other cities use the Frolic name.
Seattle's Fur The Record shows (2011 – 2015)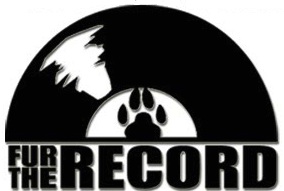 A crew of DJ's and shows, led by main organizer Tigon.  It seems to have started mainly from con dances, taking off towards independent parties. News went on pause in 2013, but some activity continues.
"Fur The Record is intent on proving that nightlife and dance type events are one of the main draws in the fandom, and should not be seen as an after thought."
Tigon told me in 2014:
Get Rammed isn't our only franchise show, we also do Cat-a-tonic in July and have done a bunch of other one off events catered specifically to the furry community, and have organized with other clubs in the area to have fursuit friendly nights where we have descended, en mass, upon major nightclubs in the Seattle area while the regular 'mundane' crowd is still there. Its been a great way to bridge the gap between the furry community and the rest of mainstream society, and break the common misconceptions of what furry is to them.
Fox Trot Club in Denver, CO (2011 – now)
The first cub of Frolic?  Taking inspiration from there, this party pushed the movement forward.  Bi-monthly at Aqua Lounge, "an upscale gay bar… I think we consistently hit about 70 participants." Run by DaoFox, Dire, Ilris, and Kelar.
Baltimore's Pawz on Pratt (2011)
Defunct.  It was a monthly night at a club that supported goth type events.
Furriday in Santa Clara, CA (2013)
This smaller gay club party attempted to expand what Frolic started in San Francisco, 45 minutes away – for the dense population of the South Bay furries.  Lycan Catt and Midekai ran it from February to November 2013 at "Tinker's Damn", a club in a more suburban area.  The one I attended had a modest turnout of a few dozen, with ad-hoc fursuit changing in a utility room.  I heard that the venue caused organizing issues and it wasn't supported enough to continue.  Organizers are discussing new plans.
Howl Toronto (2014 – now)
Their mission summarizes what "furclubbing" is for – because con dances only happen once a year.  It's "A monthly, Furry/Anime/LARP inclusive event featuring DJs from the fandom spinning a range of EDM genres in downtown Toronto."  The active TorFur community has potential to make this a long lasting event, and one of the larger on this list. Team: Dralen, Yennix, and Raverfox.
Philadelphia's Unleashed (2014 – 2015) 
Philadelphia's first bimonthly furry dance party. From a news article with the organizer: "A regular event like Unleashed can be vital for a local furry community, he says, just as any forum and source of socializing can be for a fringe group that is often misrepresented and taken for a joke. For a subculture that lives primarily on the Internet, Unleashed could mean a lot."
San Francisco's Wild Things (2014 – 2017, relaunched as Animal Farm)
A Furry and "Petplay" fetish party.  Of course, adult activities aren't for everyone and don't define furries.  It just has some overlap.
Several communities are invited together here.  San Francisco is more accepting than most places, and the venue offers unique partnership. It's a BDSM "dungeon" club, the only one in the USA with a lighted dance floor. Bars are 21+, but sex and alcohol can't mix with California regulations, so this 18+ party has a reputation as wild yet super respectful and inviting to shy people who are just getting into this.  The club has pressure from San Francisco rent costs, but there's a very active, supportive community making the party succeed.  In late 2016 it settled into a quarterly groove, drawing 150+ goers per event.
Disaster Dogs in Seattle (2015)
Seattle seems to have a pretty happening social scene for furries.  "Disaster Dogs has been around for years in the Seattle area throwing house parties and brewing beer, but this year we are branching out to provide a club outlet for the furry community in the Pacific Northwest."  I'm told this has disbanded but interest continues.
Tail! party in Long Beach, CA (2015 – now)
Frolic's influence strikes again for the active So Cal furry scene.  They didn't have their own club before, so some drove 7 hours to Frolic in the SF Bay Area.  Tail! features karaoke rather than DJ's.  Neat trivia: their support is coming from an open-minded bar owner descended from Frank Sinatra.
WiLD Party in Mission Viejo, CA (2015 – 2016)
So Cal furs complained of a lack of furry parties apart from the Prancing Skiltaire, until Tail! started. WiLD worked to amplify the fun for one of the longest existing populations of the fandom. Their first venue was lost with ownership change and the second apparently didn't get enough attendance, but they still have Tail! LOVE the toony graphics.
FurNight-ATX in Austin, TX (2016)
MC/organizer Haven also organizes (and is the mascot!) for a larger "LGBT Focused geek/gaming convention", HavenCon.  I asked if FurNightATX was affiliated with the irregular Austin Furry Dance series – they're friendly but the events aren't connected. That's an interesting sign of independent activity.
Suit-Up Saturday in Minneapolis, MN (2016-now)
One space where furs can come and be ANY type of fur they want.  Another inspired by Frolic in San Francisco.  Organizer Rachel said: "Maybe the only event in MN that specifically invites other groups to furry events… The fur community can become so insulated from the rest of the world- but I wanted to show furries that plenty of people like our vibe and want to party with us, and we should let them!"
#FurUpBmore / FURRY NIGHT AT THE EAGLE – BALTIMORE MD (2017-2018)
It's more than one monthly party – it's an event series organized around a hashtag. In November 2017 it even includes a 3-day weekend festival with a hotel block. You can't beat that for ambition! Inspired by Frolic (of course), it has a few highly-followed personalities helping to kick things into high gear, and a very supportive venue that has arranged gear and liquor sponsorship.
Scritch Detroit (2017-NOW)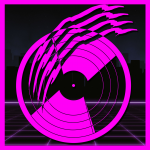 18+ club, $5 at the door, full bar and headless lounge. There's a whole club complex attached to it – and knowing how vital social spaces are in the Rust Belt, I bet it's really happening even when it's cold out. Organizer K-NAO says "there's a lot of talent in the midwest, and we want to showcase that!" They hope to attract furs from Ohio, Indiana, and even Illinois and Ontario.
Fluff Party in Salt Lake City (2017-NOW)
Last Friday of month at Club Try-Angles in Salt Lake City, Utah.
Party Animals in San Jose, CA (2017-NOW)
The super active southern contingent of San Francisco Bay Area furries wanted more than just one Frolic party a month, with a long drive home afterwards. While Furriday didn't last through 2013, the area has dedicated supporters no matter what. San Jose is home city of Further Confusion, and PAWcon also happens there, making this the only area I know of with multiple cons and dance parties for furries.
______________________
Furclubs – Europe
______________________
Germany's Cologne FurDance (2008 – 2016)
This looks like a big deal for Euro furs – a successful, well established rave-type event.  (I'd never heard of it – these don't always filter over to North America.)  It's been said: "The whole furry movement is really big in Germany. There are two countries where it's so big, in America and in Germany."  It makes sense to find a source for this Thing there.
Frantic Eufuria in Bristol, U.K. (2010 – 2014)
Another rave-type series that was a big deal for Euro furs.  It began with "the very first 'UKFur Rave' back in 2008".  Growth led to simultaneous electronic and metal music events, better food and drink facilities, and a dedicated fursuit changing room.  It ended in 2014, but organizers have started a new event called "What The Fluff Furdance" (See below.)
What the Fluff Furdance, Southampton, UK (2014 – now)
Born after the end of Frantic Eufuria – a dance party drawing mainly furries in the south of England. Team: Weremoco, Taelion, Freddypanda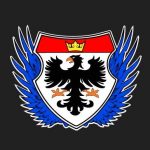 Eagle Furdance, Switzerland (2014 – NOW)
4 yearly events so far. Wikifur: "there were very few events in Switzerland, especially dance events."
CLUB ANIMALZ – MANCHESTER, UK (2017-NOW)

Started in March 2017. "Animalz is organised by a small group of furs & pups from across the UK. Seeing amazing events like Frolic and Tails in the USA made us a tad Jelly! So we decided to start something here in England. We dream to make Animalz a fun, exciting club night where furs & pups can come together and let their fur down! The team has years of experience organising events within the Furry and Pup communities."
Even more in Europe
______________________
Honorable mentions
______________________
Anything besides repeat/regular Furry parties with a consistent name and venue.  Once-a-year, one-off, or "fur-friendly" events, or crews producing shows through a loose network.   There have also been "pseudo-furry" events that try to use the theme. (Like this one in San Francisco.)  Some of those are cool, like creative drag/variety shows.  Some are lame, because the organizers don't have furry friends… They just want to copy ideas or milk weirdos for cheap marketing. Those typically don't succeed.
Northern California's Animalistik events (2011-now):  Not by furries. Large, mainstream animal-themed rave events, repeated six times as of 2015.  Run by EDM promoters NationalEntity. The timing is interesting, suggesting a general trend.
San Francisco's Top Dawg production crew (2011 – now):  Led by cool furries.  They team up with others in the rave scene to produce events.  Theirs seem more attended by rave goers, but there is overlap.
Chicago's Tails and Glowsticks dance (2012):  This fur dance sadly only happened once.  They picked a unique social venue, Chicago Party Animals.   "We are pet friendly and work with the animal rescue community."  (They host parties, benefits, and off-leash dog meet-ups. It's a renovated warehouse with 2500 sq ft main floor, divisible for a dance floor, eating, bands and changing area.  And a 2000 sq ft lower floor. Wow, I'd love to go to a cool venue like that!)  Chicago seems like a logical place where a large regular Furclub could take root, after Germany, Toronto, and California/West Coast furries have made theirs big.
SEAPAH: Seattle Pups and Handlers events (2012-now) – "A group that is devoted to the human-pup, and those that love them – Puppies, Handlers, Furries and more – for people curious about pup play in the Pacific Northwest and beyond."  A leather/fetish focused, registered 501(c)(7) social organization that doesn't necessarily fit with Furry, but has overlap and draws fursuiters.  They list regular dances at The Cuff (a leather bar), a camp, and Rainfurrest con.  They even do a booth at San Francisco's Folsom Street Fair.
San Francisco's So Stoked events (2013 – now):  So Stoked partners with the Kandi Love crew to organize a prolific series of rave-type events.  Organizers include Samoy (AKA Lucky Rabbit), a furry who sometimes works with Top Dawg, and there is some overlap with other furry activity.
Cosmo Coyote's Northern California events (2013-now)  – These overlap with a loose network including local DJ's who do Frolic and So Stoked events.  Top Dawg sometimes provides lighting and decor.  The parties happen with various names and venues around California's central valley.
Austin Furry Dance series (2013- now) – University club-based social events that are a little small to put on the main list (wait until they get an independent venue under a single name). They seem to be running regularly, with potential to establish a new scene for this movement.
Portland's PDXFurs Naughty and Nice halloween fetish party (2014) – Led by organizers of the Furlandia con, it was promoted with a puppy play theme.
Rhode Island's RI Furry Dance Party (2015) – Honorable mention for a small, repeating, hotel-hosted event.
Space Camp in Alameda CA (2018) – The first party was a rager. It's kind of like Frolic at a uniquely awesome venue: a waterfront hangar converted to a brewery, with Burning Man art cars and more. This is due to happen at least annually.
Watch for updates –  Parties that send Q&A's will have new articles linking here.